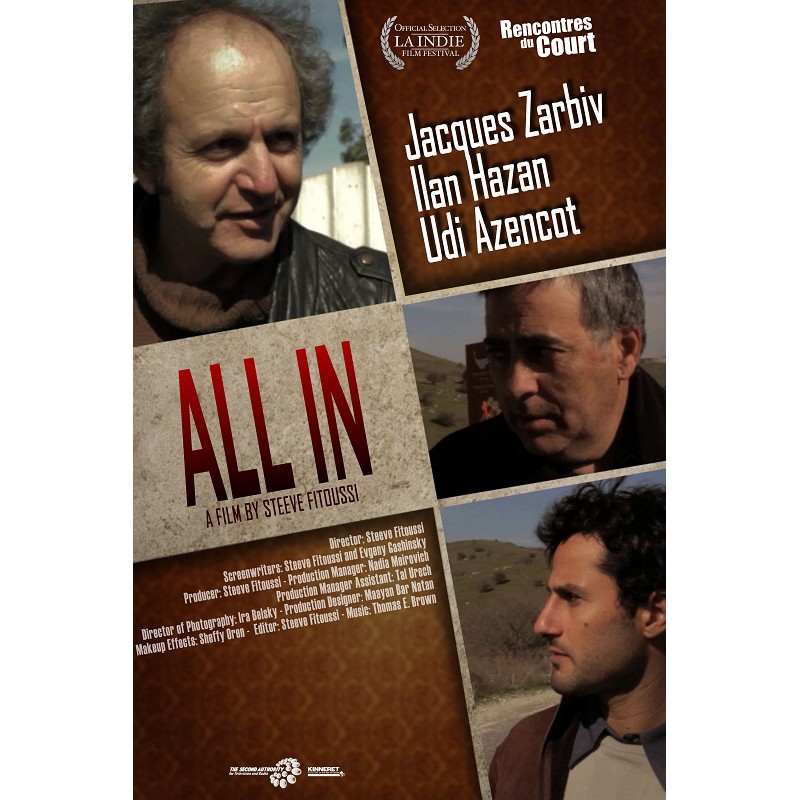  
2012 - 17 minutes
by Steeve Fitoussi
Aired on Israeli National TV
Festivals & Awards:
Winner:
Angeleno Film Festival 2014
Official Selection:
LA Indie Film Festival 2013
Rencontres du Court - Montpellier
ALL IN
This is a re-edit of the movie.
I wanted to see if I could make it better.
For the original version : 
https://www.youtube.com/watch?v=y_mt-huXn0Q
A released prisoner is facing the desire to begin a new life with his son while the shadow of the past continues to haunt him and threatens his future.
Credits :
Director: Steeve Fitoussi
Screenwriters: Steeve Fitoussi and Evgeny Gashinsky
Producer: Steeve Fitoussi
Production Manager: Nadia Meirovitch
Production Manager Assistant: Tal Urech
Casting Director: Maayan Bar Natan
Location Manager: Udi Haver
Director of Photography: Ira Belsky
First Assistant Camera: Daniel Brener
Gaffer: Meir Ben Salomon
Production Designer: Maayan Bar Natan
Makeup Effects: Sheffy Oren
Sound Mixer: Shahar Gross
Boom Operator: Hadas Uziel
First Assistant Director: David Shmul
Production Assistants: Assi Dahan and Dorin Ivgi
Editor: Steeve Fitoussi
Sound Editor: Matan Bracha
Music: Thomas E. Brown
Cast :
Jacques Zarbiv
Udi Azencot
Ilan Hazan